Shipping delays, supply chain issues, and another extended shopping season
Even with the absence of an October Amazon Prime Day, consumers started their holiday shopping early again this year in an effort to offset the dreaded shipping delays and out-of-stock madness we all experienced in 2020. According to the National Retail Federation (NRF), 49% of shoppers started browsing or buying holiday gifts before November1.
Outweighing the concerns of supply chain issues are lower unemployment rates, government stimulus, and increased wages, all contributing to increased spending for the holidays2. The NRF forecasts November and December sales to increase up to 10.5% compared to 2020 with an average consumer spend of $9983.
Even with in-store shopping making a comeback this year, an internal survey distributed by Slickdeals Advertising revealed that 100% of surveyed partners said they planned to have the most holiday deals available online versus in-store4.
In our 2021 Holiday Shopping Report, we share insights from a commissioned consumer survey with OnePoll as well as an internal survey sent to current advertising partners. Dive into the findings below or access the downloadable version here.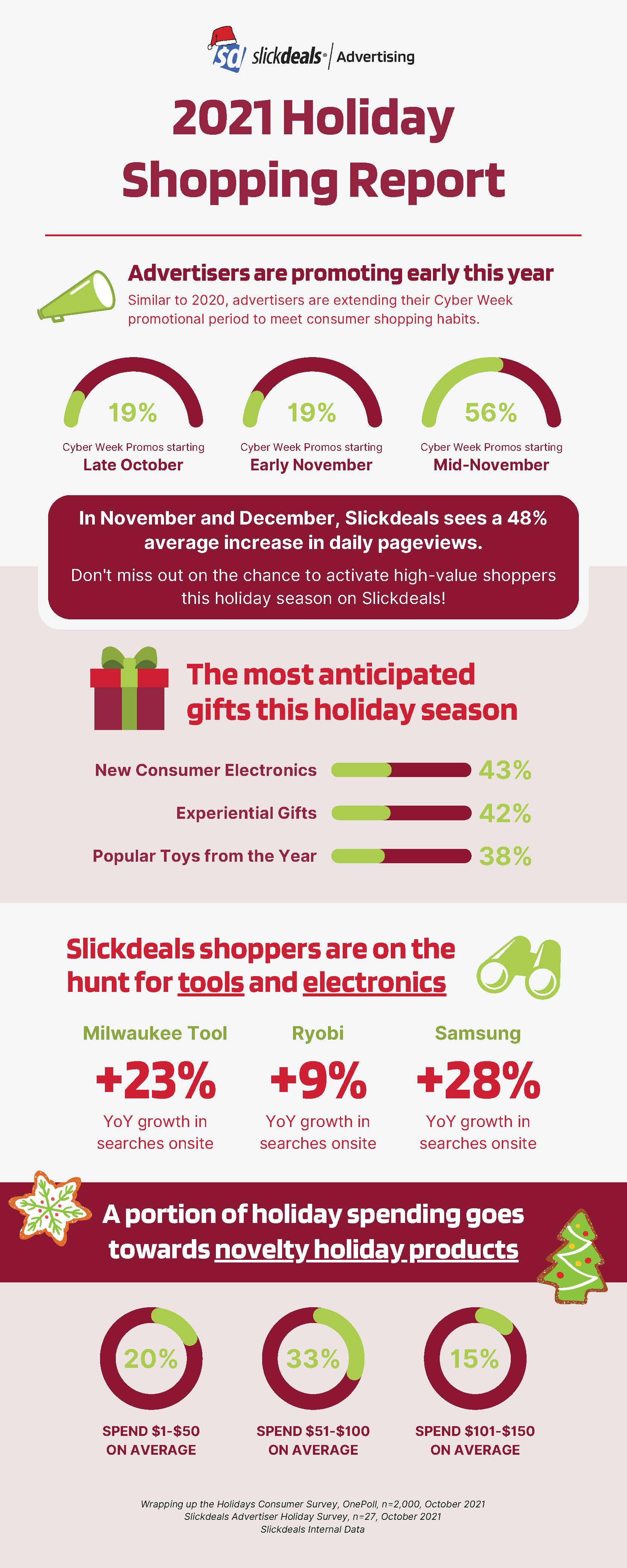 It's not too late to pivot your holiday eCommerce strategy.
Connect with us to learn more about activating our high-intent audience and driving holiday sales through both performance-based initiatives and brand marketing campaigns.
1National Retail Federation, Retail Holiday and Seasonal Trends, Winter Holidays 2021
2US Holiday Shopping 2021, eMarketer, October 2021
3NRF Predicts Highest Holiday Retail Sales on Record, October 2021
4Slickdeals Advertiser Holiday Survey, n=27, October 2021