87% of Americans who shopped Black Friday or Cyber Monday sales last year plan to shop the sale events again this year.
Seventy percent of consumers admit to shopping for themselves during holiday sales such as Black Friday and Cyber Monday, according to a survey conducted by Slickdeals, the only shopping platform powered by millions of avid shoppers sharing and discovering the most up-to-date online deals and coupons. Sixty-seven percent will also use the sales as an opportunity to shop for immediate family members.

Developed by Slickdeals and conducted via Suzy, the study of 1,334 nationally representative adults who shopped either Black Friday or Cyber Monday sales last year found that 87% of respondents plan to shop the sales events again this year. Another 11% are unsure about whether they will shop, but will consider it. Only a small 2% stated that they do not plan to shop during these sales.
Those not planning to shop are primarily driven by the impacts of inflation on their disposable income (52%) with 43% stating they won't shop because they are trying to spend less due to fear of a recession. In fact, inflation is the leading concern for all respondents when it comes to socioeconomic factors impacting their holiday shopping this year (54%).

Despite those concerns, 37% plan to spend upwards of $501 during holiday sales this year. Fifty-five percent said their main goal for shopping during Black Friday or Cyber Monday is to complete most of their holiday shopping and 55% said it's to save money on big-ticket items.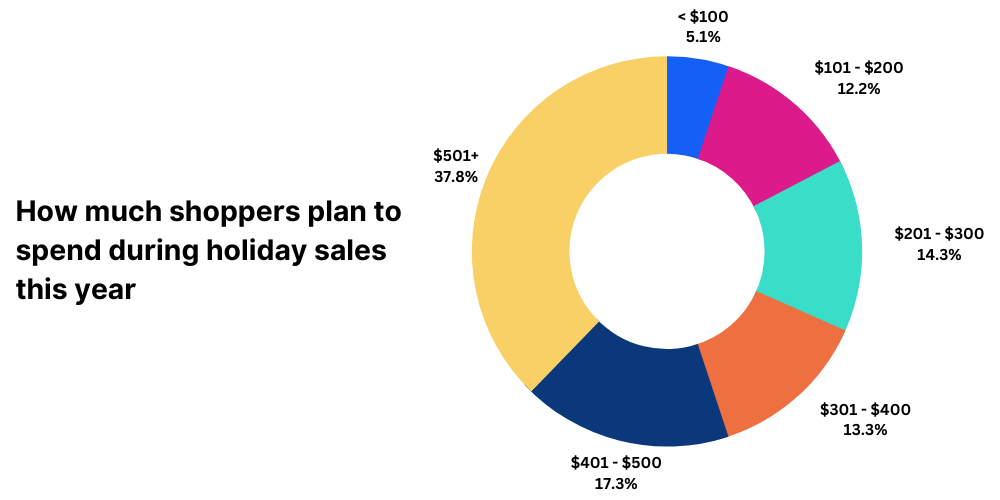 While saving money consistently ranks as a top priority for shoppers during the holidays, other factors should be considered by brands and retailers. When asked which factors are most important to shoppers during holiday sales, quality (53%), variety of choices (25%) and brand reputation (23%) ranked in the top five.
The top categories in which consumers plan to allocate their dollars include clothing and shoes (72%), toys (56%), personal care and cosmetics (54%), tech and electronics (54%), home goods (48%), and gift cards (48%).

The most anticipated items for Black Friday and Cyber Monday this year include new smartphones, laptops and TVs (63%), clothing (59%), toys (58%), video games (54%) and kitchen appliances (44%).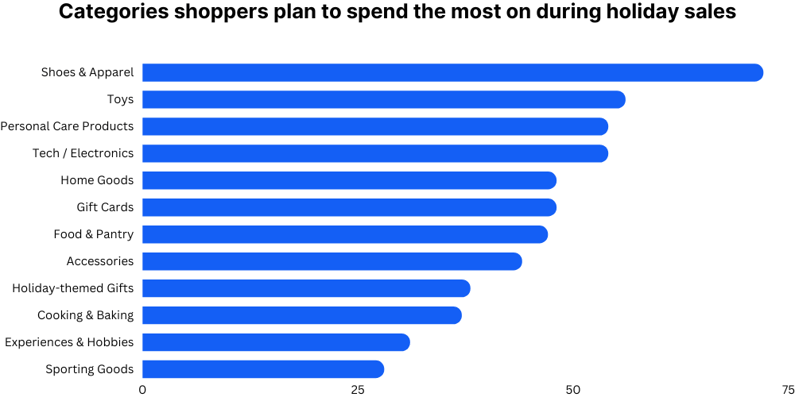 While the majority of shoppers plan to use credit cards to make their purchases (69%), a large number plan to use debit cards (62%) or pay with cash (51%). Only 14% stated they will use installment plans like Klarna or Afterpay.

As far as shoppers' purchase timeline, Black Friday and Cyber Monday still reign supreme, with 59% of respondents saying they will do their holiday shopping during those sales events. Twelve percent will shop in early December and 3% will wait until the last minute, shopping right before the holidays. Another 1% stated they have already completed their holiday shopping.
Even with the holiday sales cycle now extending into October, only 24% of consumers say they feel burnout from frequent sale events offered by retailers.
Reach out to learn more about Slickdeals' unique community-driven platform and strategic eCommerce solutions. Get in touch.
---
About Slickdeals
Slickdeals is the only shopping platform powered by a volunteer army of 12 million avid shoppers helping other shoppers find, evaluate and share the most up-to-date online deals and coupons from all the top retailers. Through community-powered shopping, Slickdeals has saved shoppers $10 billion by providing a forum for deal discovery and shopping discussion. Through collaborative eCommerce opportunities and brand marketing solutions, Slickdeals Advertising offers impactful advertising opportunities that drive over $1.53 billion in sales for partners annually.
Survey Methodology
The survey was conducted via Suzy, a connected research cloud, on September 22, 2023. The survey queried 1,334 nationally representative US adults who shopped during either Black Friday or Cyber Monday sales in 2022.