Applying Custom Campaigns to Extend Audience Reach and Drive Sales
---
Business Goals
True Partnership
After many years of running successful campaigns, this food, snack, and beverage company has developed a robust, symbiotic relationship with Slickdeals. Their goals and objectives are clearly outlined and analyzed before each campaign begins.The team is able to lean on the Slickdeals tools and resources that allow them to evaluate each deal opportunity and forecast its potential visibility.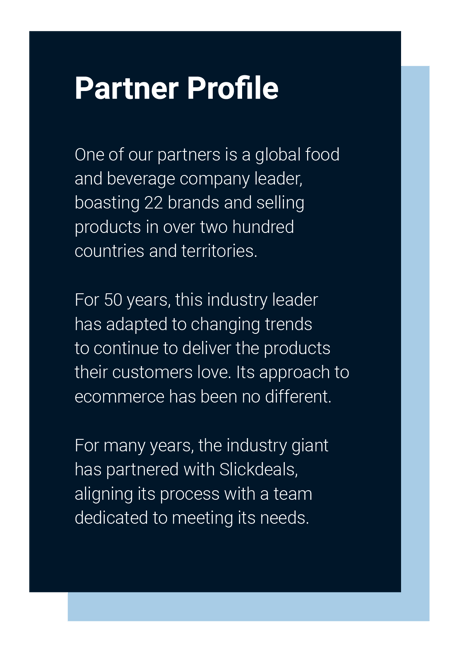 From Goals to Strategy
With multiple brands to drive revenue to, the campaigns for this global company often cover hundreds of different products in the food and beverage market. Our partner typically approaches Slickdeals with clear numbers, budgets and goals to achieve. The Slickdeals team converts those goals into a strategy to increase visibility, interest, and sales. Ongoing discussions through each campaign ensure key success metrics are met.
In addition to scaling with the ecommerce realm and the Slickdeals audience, the key objective for each campaign has been to increase revenue and sales. Along with Frontpage placement and ROAS, these are some of the key metrics that determine success.
Solutions
The Partnership Process
Larger campaigns normally range from $50k-$150k each and they often begin with a list of potential deals created internally by this client. The Slickdeals team then uses all available resources, especially their Deal Hunters, to evaluate each potential deal and highlight the best opportunities for success.
Slickdeals incorporates internal assets and capabilities to suggest potential revenue generators, optimal exposure points, and the best allocation of budgets. Several options and expected revenue estimates are presented to our partner's team for consideration before any deals go live.
Once a campaign is running, the Slickdeals team manages the volume and visibility throughout the campaign process to promote continual sales. This is done through careful curation and scheduling of each package, to get the optimal visibility at the right time.
Communication regarding performance and improvement is sustained regularly from both parties to assure complete control. This thorough approach to increasing brand awareness and activation ensures successful visibility and sales for each campaign. This was particularly evident in a 30-day special program created to highlight the brand. The customized process generated $800k in sales from the Slickdeals audience over the course of the campaign.
---
Results
Every campaign with Slickdeals has been a success for this leading food and beverage company because of the mutual dedication to the performance.
The constant discussions that take place from start to finish for every deal have stimulated a valued trust between both parties. Both sides are extremely diligent about enhancing success through the full suite of Slickdeals products to get the best return.
In addition to overall traffic to their products and brands, the featured placement on Slickdeals has led to additional exposure for the campaigns running across the web. Essentially, Slickdeals acts as a supporting arm for these other campaigns, extending their reach to a larger audience.
---