Generating eCommerce Revenue at Scale with a Transaction-ready Audience
---
Business Goals
Drive In-Store Traffic
Like any other brick and mortar retailer, this commerce leader aims to serve customers in whatever way they want to transact. Most revenue in the home improvement market stems from customers shopping in-person. How could this brand drive more in-store traffic with an increasingly digital consumer base?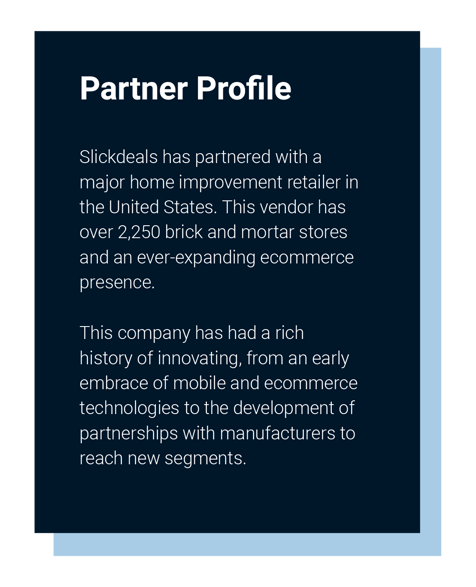 Develop Home Decor Ecommerce Presence
In 2019, the burgeoning $660 billion home decor vertical saw a growing number of digital-first entrants acquiring market share. In response, the brand invested in a robust ecommerce site and experience. What is the ideal approach to drive awareness and traffic?
Foster Relationships with Key Manufacturers
Like any retailer, this company relies on key partnerships with product manufacturers to stock their shelves. Many of these relationships are dependent on the retailer's efforts to drive brand awareness and engagement for each manufacturer. How does the brand leverage Slickdeals to drive impact?
Solutions
Slickdeals Expertise Drives In-Store Traffic
Believe it or not, even though the majority of sales for brick and mortar home improvement retailers are being completed in-store, much of the traffic is driven by digital branding exposure. Additionally, with the majority of prices being similar across the industry, the challenge was to stand out amongst the crowd. What was the solution?
For this vendor, Slickdeals experts analyzed our partner's current site for deals and sought out the most relevant items to create the greatest impact based on market and consumer trends. They specifically called out deals that required in-store pickup.
Home Decor Boom
It all started with the transaction-ready audience. This giant retailer harnessed its partnership with Slickdeals to find the strongest avenue to create familiarity with their new products. This included running a series of regular deals that reached the front-page. The ongoing 'deal dialogue' with consumers generated significant brand awareness around the home decor channel. Combined with the robust shopping community on Slickdeals, the popular home improvement leader was also garnering the benefits of increased reviews and ratings on their site.
A Large Retailer + Slickdeals for Partners
As a trusted partner, the brand was open to sharing its target ROAS with Slickdeals for each of its manufacturers. Armed with this information, Slickdeals experts were able to identify inventory and opportunities across multiple campaigns. Through an open dialogue, both sides were able to manage pricing, deals, and overall manufacturer campaigns to drive bottom-line impact.
The teams collaborated to create a Special Buy of the Day (SBOTD) to highlight Smart Home inventory at a discounted price per unit. After that initial campaign proved to be successful, the Slickdeals team worked with the retailer to test additional bundles and pricing discounts.
---
Results
Overall, the alliance has led to site visitors converting into buyers at a higher rate.
Online sales have risen to ~24% annually for the home improvement company. Direct contact with Slickdeals has also resulted in the home decor segment getting a deal on the front-page for the first time, driving more sales and better brand awareness.
The company has made the retention of their partnerships its key business strategy. In addition to jumping competitors, this ecommerce method is one more way that they are setting an example to empower retailers to help their partners.