Driving Demand and eCommerce Sales During Prime Shopping Events
---
Business Goals
Driving Demand
Vita Coco has continued to see success from its ecommerce efforts thanks to strong online reviews and being included in Amazon's "Subscribe & Save" option. The beverage's dedication to quality products has helped establish a loyal foundation of customers.
To continue strengthening its online presence, Vita Coco partnered with Slickdeals in 2017 to expand its ecommerce strategy. This was done by focusing on expanding its customer base and moving inventory at a greater rate during peak seasons.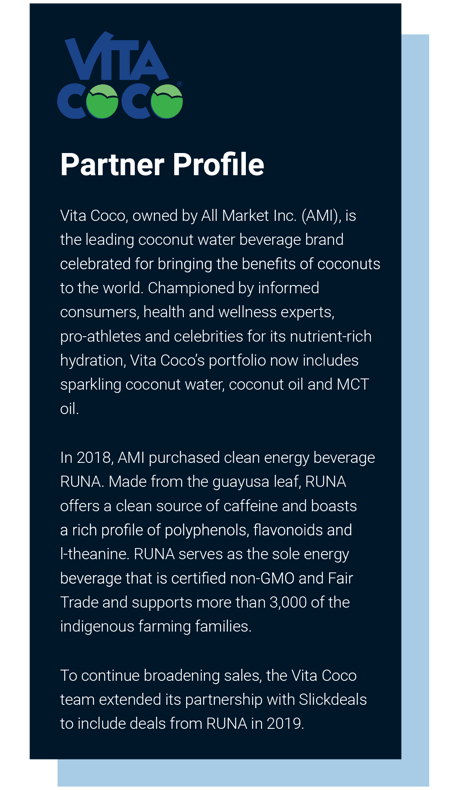 Each engagement has been aptly timed around key ecommerce holidays, such as Black Friday and Prime Day, which has helped increase market visibility during competitive periods.
Partnership to Propel a New Product
When AMI acquired RUNA in 2018, Vita Coco decided to leverage Slickdeals to assist with bringing on a new brand to the team. RUNA's initial campaigns were a part of its larger strategy to drive overall brand awareness and relevance during highly competitive dates during the year.
With RUNA, the goal was to highlight its sampler six-pack case to drive interest in the brand, and eventually, other flavors and packages.
Solutions
Black Friday 2017
For Black Friday 2017, Vita Coco and Slickdeals maintained an open dialogue and used a classic approach to increase traffic and visibility to the search results.
Slickdeals' tools verified that $6 was a competitive market offer for Vita Coco's drink package. Vita Coco aligned this pricing suggestions with a standard newsletter placement, resulting in a heavy response from the Slickdeals audience.
"Visibility from the Slickdeals partnership drove a +1100% increase in page views to our core pack, resulting in $112k of sales in just one day - 10x the day prior and easily our biggest single day of Amazon sales ever."

- Jim Morgan, Head of eCommerce, Vita Coco
Prime Day 2019
Thrilled with past results, the Vita Coco team introduced its sister company, RUNA, into Prime Day plans in 2019. RUNA welcomed Slickdeals' guidance by utilizing resources, specifically pricing suggestions.
RUNA and Slickdeals agreed that success in the market would be impacted by two factors: the timing of the campaign and the cost associated with the deal. Slickdeals kicked off RUNA's campaign two days before Prime Day 2019, leveraging the buzz of the big shopping event. They paired the strategic timing of the campaign with competitive pricing, promoting the beverage sampler pack at $6 per unit.
The result? All units sold out before Prime Day arrived. Additionally, the RUNA sampler pack moved up in ranks by 140,600% (#5,628 to #4) in the Grocery and Gourmet Food category, earning it a "Best Seller" badge*.
Black Friday 2019
With Black Friday 2019 approaching, the RUNA and Vita Coco teams hoped for a similar campaign strategy to that of Prime Day. The Slickdeals team suggested a single variation in price to ensure greater impact in the upcoming market. The campaign kicked off on Black Friday with a lower price per unit at $5.
Slickdeals' tools were well equipped to find the best approach. As a result, similar to the prior year, RUNA sold out of all units.
---
Results
Vita Coco and RUNA saw large increases in product movement and first page placement during their well-planned, compressed campaigns. Engagements also trickled down into increased brand recognition, reviews and ranking across the web.
The partnership and success created between Vita Coco and Slickdeals led to a natural expansion of the RUNA brand. Both engagements with RUNA resulted in all units selling out.
Overall the collaboration of Vita Coco, RUNA and Slickdeals has led to greater visibility and an increased conversion rate of site visitors to buyers. These short-term campaigns have become the standard for success for both Vita Coco and RUNA teams during peak seasons.
---
*"Why Amazon gets a 3 out of 5 star rating", Profitero, July 2019