Using the Power of Community & Cashback to Drive New User Acquisition
Partner Profile
Founded in 2011, SoFi is an American online personal finance company based in San Francisco, California. They provide a vast array of financial products including student and auto loan refinancing, mortgages, personal loans and more to their 3.5 million members.
In 2019, SoFi launched its SoFi Money product. Looking to drive new user acquisition and promote awareness of their newest product, they partnered with Slickdeals to activate high-intent users and establish a presence within Slickdeals shopping community.
Activating an Engaged Audience
Slickdeals users are financially-savvy and are always looking for ways to maximize their savings and diversify their portfolios.
4.5M Slickdeals shoppers have an affinity for banking services and are avid investors
Slickdeals visitors are 1.8x more likely to visit Personal Finance websites than the average internet user
1.3M Slickdeals shoppers are in-market for a financial or investment service
Knowing that Slickdeals users have an appetite for personal finance deals, the Slickdeals team used its resources to determine what type of offer would be most compelling in the community-based forums.
The team determined that an incentivized promotion, using Slickdeals Rewards as a vehicle for cashback, would receive positive feedback from the community. To stay competitive, Slickdeals recommended offering a $75 cashback bonus when users created and funded an account with $125.
Leveraging the Power of Community
The first $75 bonus offer posted in May 2021 utilized Slickdeals Rebates as a vehicle for cashback. The deal moved through the Slickdeals forums, achieving "Popular" status with no paid media promotions.
After sunsetting Slickdeals Rebates in June 2021, The team re-launched the same SoFi offer in July via Slickdeals' new Rewards program. The Slickdeals Rewards program allowed for better tracking & attribution and delivered a more seamless user experience for shoppers to receive the $75 bonus.
This time, SoFi's offer reached Frontpage status with no paid media promotions.
By maintaining a consistent presence in the Slickdeals forums, SoFi was able to boost brand awareness while the Slickdeals Rewards program made it more feasible to expand the longevity of the offer.
Over the course of 8 months, the deal post remained live and generated over 1,700 account signups.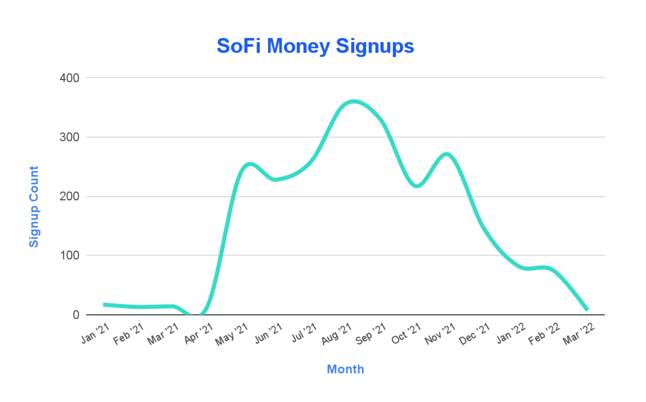 The Results
Drove new user acquisition:

249% increase in SoFi Money accounts created across the Slickdeals ecosystem

Increased site traffic: 418% increase in outbound clicks across the Slickdeals ecosystem
Boosted SoFi's market share: 28% increase in market share on Slickdeals
Improved brand awareness: 72% increase in "sofi" search term on Slickdeals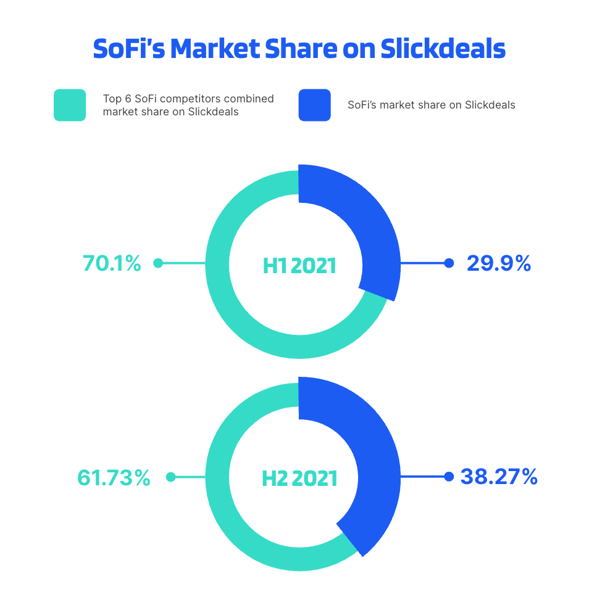 ---
About Slickdeals
Slickdeals is the only shopping platform powered by a volunteer army of 12 million avid shoppers helping other shoppers find, evaluate and share the most up-to-date online deals and coupons from all the top retailers. Through community-powered shopping, Slickdeals has saved shoppers $10 billion by providing a forum for deal discovery and shopping discussion. Through collaborative eCommerce opportunities and brand marketing solutions, Slickdeals Advertising offers impactful advertising opportunities that drive over $1.51 billion in sales for partners annually.
Interested in activating Slickdeals' financially-savvy shoppers? Let's connect!